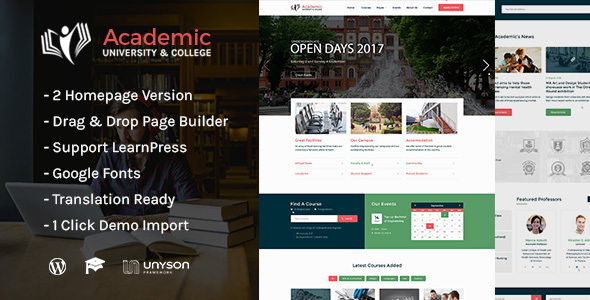 Now support Elementor Page Builder
Ready for WordPress 6.2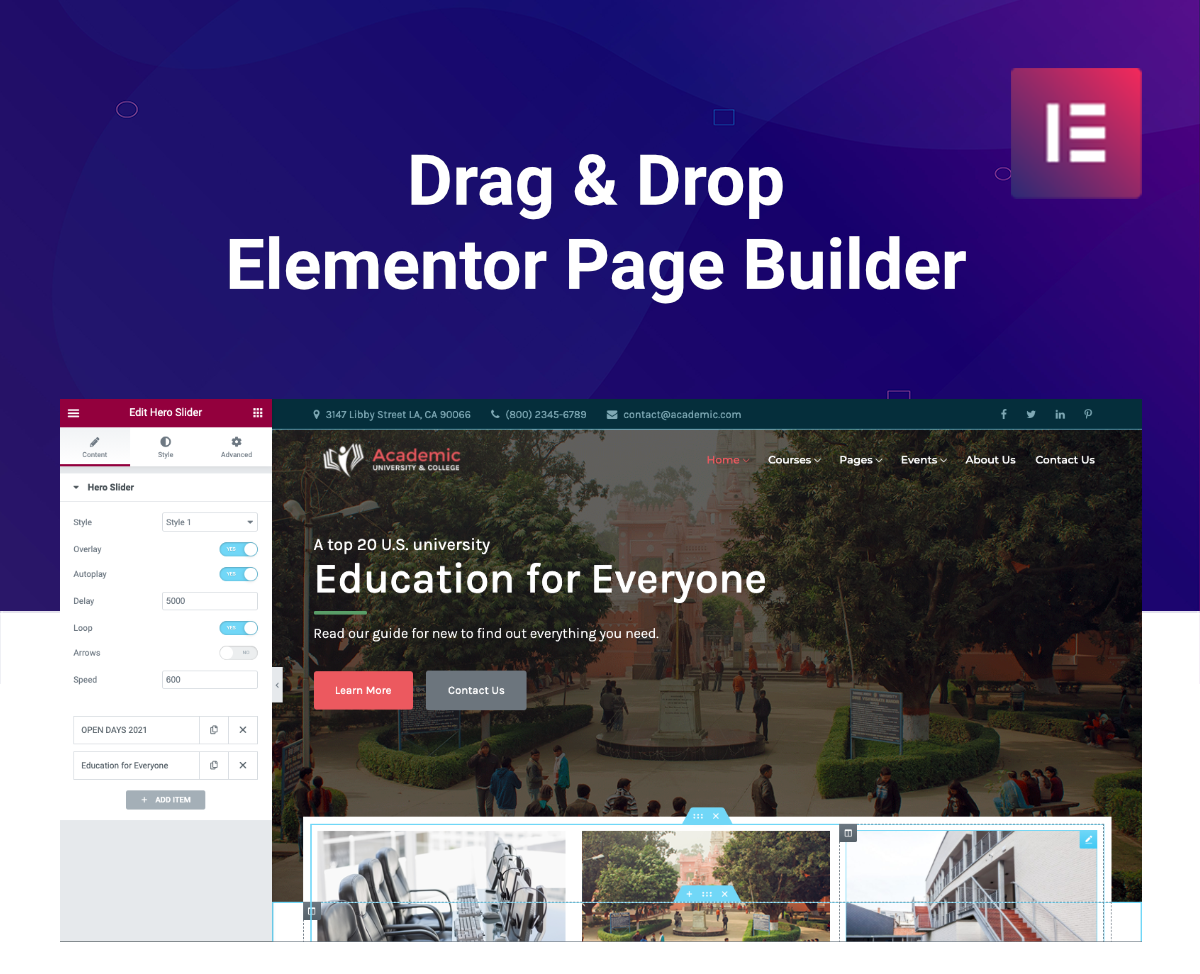 Academic has been created especially for universities and course-related websites. In addition, this theme comes loaded with 35 Visual editor elements and more than 30 theme options.
Besides, it also includes 2 homepage versions and 4 post formats. Also, it consists of 2 header and footer heading styles and 15 pre-made pages that are super easy to customize.
Main Features:
Responsive Layout
Box & Wide Layout
Woocommerce Ready
CSS Preloader
Sticky Navigation Bar
2 HomePage Versions
2 Header Versions
Drag and Drop Page Builder
5 Font icon packages
Event Page (List and Grid Verison)
Course Page (List and Grid Verison)
Support Learnpress
2 Footer Heading style
4 Predefine Color schemes

and many more…
Images are not included in main files
If you need support, please email fill out this form https://www.codeixer.com/contact-us
Academic Required PHP version 5.5 or Later
Academic _ Change Log:

v 2.2 - 6 Feb 23
   - Update: codestar Framework plugin
   - Update: academic core plugin

v 2.1 - 2 Sep 22
   - Update: Outdated copies of Learnpress Templates
   - Update: codestar Framework plugin
   - Update: academic core plugin

v 2.0 - 16 Apr 21
   - Update: Outdated copies of Learnpress Templates
   - Update: Elementor Page builder
   - Update: Demo import plugin
   - Update: academic core plugin (must need to update)
   - Alert : if you update from old version to version 2.0 then you will missing the previous data. so we highly recommend to backup before update the theme. if you need the old version please fill up this <a href="https://codeixer.com/contact-us/">support form</a>

v 1.3.6 - 17 May 18
   - Update: Outdated copies of some Woocommerce
   - Update: Text-Domain Update
   - Fixed: Sub-menu overlapping on hover
   - Fixed: Conflitct with wp.org theme update

v 1.3.5 - 12 May 18
     - Update: outdated copies of some Woocommerce & LearnPress template files.
     - Fixed: Academic now Learnpress version 3.+ Comfortable

v 1.3.4 - 2 December 17
     - Update: edit the text in this section: http://prntscr.com/hgc0qw

v 1.3.3 - 6 November 17
     - Update: outdated copies of some Woocommerce & LearnPress template files.

v 1.3.2 - 25 October 2017
     - Update: outdated copies of some Woocommerce & LearnPress template files.

v 1.3.1 - 05 October 2017
       - Fixed: conflict issue with wp.org Free theme.
       - Update: Event & Event carousel Shortcodes.
       - Added: Theme Support Tab in Theme Setting Menu.

v 1.2.6.4  - 29  August  2017
        - Update: outdated copies of some Woocommerce & LearnPress template files.
       -  Change: Basic WordPress Tab Design to Side Tab Design (Theme Options )

v 1.2.6.3  - 16  April 2017
        - Update: outdated copies of some Woocommerce & LearnPress template files.

v 1.2.6.2  - 7  April 2017
        - Update: outdated copies of some Woocommerce template files and 3.0 gallery support single product images

v 1.2.6.1  - 1  April 2017
        - Fixed : Minor PHP Bugs and CSS issues

v 1.2.6 - 29  March 2017
        - Fixed : "Forbidden" after sent message via the contact form 

v 1.2.5 - 27  March 2017
       - Fixed : minor CSS issues
       - Update : outdated copies of some LearnPress template files

v 1.2.4 - 20  March 2017
       - Fixed : Minor CSS issues
       - Added : Hover animation for Events, courses & blog posts feature images   

v 1.2.3 - 8 March 2017
       - Fixed : Minor CSS issues
       - Added : Button text edit option for "Academic News" Shortcode

v 1.2.1 - 3 March 2017
       - Fixed : Course Grid issue
       - Fixed : Google map overlapping issue in less than 768px devices
       - Fixed : Latest course slider less than 640px broken style issue

v 1.2 - 26 Feb 2017
       - Fixed : Slider text issue in small devices
       - Fixed : After slider shortcode align issue
       - Update : Update 1 click demo content
       - Added : Woocommerce Support
       - Added : Sticky menubar
       - Added : CSS Preloader

v 1.0.2 - 20 Feb 2017
       - Fixed : LearnPress Profile page Tabs style
       - Fixed :  Heading overlapping in mobile and tabs
       - Fixed : Minor modification in mailchimp subscribe shortcode
       - Added : Box and wide Theme Layout option
       - Added : Footer heading style metabox

v 1.0.1 - 13 Feb 2017
       - Fixed : Minor CSS issues
       - Fixed : Learpress User Profile Page
       - Fixed : Gravatar image is not showing in author biography

v 1.0.0 - 11 Feb 2017
       **Initial Release