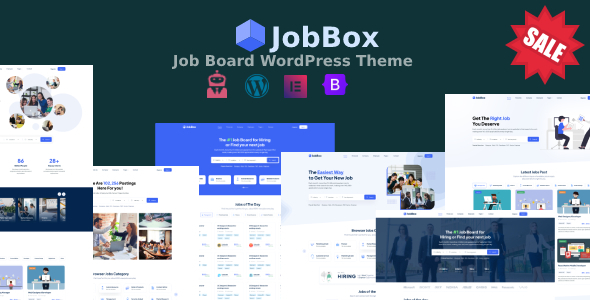 JobBox is a job board WordPress Theme. It is a neat, clean and professional job board website template for your organization. This template includes a Drag and Drop Page Builder Elementor, making it easy to build a complete Job Board theme.
This modern and professional flat design comes with lots of possibilities. JobBox is perfect for applicant, candidate, career, corporate, company, recruitment agency, employment, freelancer, job board, job directory, job listing, job posting, and job seeker also.
JobBox is integrated with WP Job Manager plugin which will save you time and help you build your project faster and more efficiently.
Customer Reviews
Few Highlights of Our Theme
JobBox is WP Job Manager supported – It is a lightweight job listing plugin for adding job-board functionality to your WordPress site. Shortcode-based, it is really simple to set up.
Allow job listers to preview their listing before it goes live. The preview matches the appearance of a live job listing. Easy to Use – Add, manage and categorize job listings using the familiar WordPress UI.
Search and Filter – Searchable & filterable ajax powered job listings added through Shortcodes.
Frontend Forms – Frontend forms for employers to submit & manage job listings.
WooCommerce supported – Paid listing functionality powered by WooCommerce. Create custom job packages that can be purchased or redeemed during job submission.
Candidates – Allow candidates to apply to jobs using a form & upload a custom resume
Recruiters – Allow the company to create their company profile & employers to view and manage the applications from their job dashboard.
Advanced Customizer options to change theme color, fonts, layouts, etc
One-click demo importer – Import your demo content, widgets and theme settings with one click.
All Jobbox Features
1. Elementor page builder supported. No coding required to build page.
2. Customizer supported. Site can be customized easily and quickly.
3. Customizer Settings :
Post settings : Archive title, excerpt length settings, sticky text settings, trending news settings
Newsletter settings : newsletter form display settings, title settings
Dynamic styles : Dynamic Google fonts, dynamic font sizes, dynamic colors, dynamic background colors, dynamic borders, dynamic shadow settings.
4. What you get from JobBox
One click demo import
Clean and elegant design
Cross browser compatibility
Unlimited colors
Sticky menu supported
Offcanvas mobile menu supported
WooCommerce supported
5. JobBox custom post types :
Job Listing
Recruiter
Candidate
6. Custom post type settings :
Apply job form settings
Recaptcha v3 settings
Archive page settings
Posts per page settings
Content tab title settings
7. Frontend submission :
Job submission : Logged in user can submit job post from front end. Frontend submission form is available
Create resume : Logged in user can create resume from front end. Frontend submission form is available
Company profile : Logged in user can create company profile from front end. Frontend submission form is available
8. Job Listing :
Job categories
Job location by country
Job types
Job search by category, location and keyword
9. Email subscription form settings :
Mailchimp url settings
Email placeholder settings
Submit button settings
10. Less plugin dependency :
Supported basic and free plugins. Custom post types are controlled from a single plugin, so theme is less plugin dependent
11. Elementor supported templates :
Theme contains dynamic Elementor templates. Using those templates pages can be built easily and quickly. Templates are listed below :
Jobs by category
Jobs by location
Job categories
Job search form
Top recruiters
Latest posts
All members
Testimonials
Pricing plans
12. Other templates :
Similar jobs template
Jobs offered by a company
Trending news
13. Grid and List view: Supported grid and list view switcher in archive pages
14. Bootstrap 5 supported
15. Optimized site speed
16. Fully Responsive Layout (PC, Tablet and Mobile phone)
17. Google Fonts supported
18. WPML – Multilingual supported
19. Child theme supported
20. Left/right sidebar, full width page & blog layout.
21. HTML5/CSS3 W3C Valid
22. SEO Optimized Page Layouts (heading use etc.)
23. Latest WordPress Tested
24. Latest WooCommerce Tested
25. Contact Form 7 Integrated
26. Google Analytics Ready
27. Dedicated support and regular updates
28. Extra Features :
Sidebar widget supported
Footer widget supported
Modern Responsive Mobile Navigation
Change log

1.2.5 - 6th August, 2023:
1. Added settings to post job independently
2. Added settings hide job recruiter info
3. Added settings hide job salary text
4. Fixed mobile menu dropdown issue
5. Fixed job application export issue
6. Updated WooCommerce outdated templates
7. Updated theme required plugins
8. Updated CSS files

1.2.4 - 31th May, 2023
1. Added reset password link
2. Updated job templates
3. Added settings to hide job listings recruiter info
4. Improved job templates spacing
5. Updated hiring banner
6. Updated theme required plugin
7. Updated CSS files

1.2.3 - 1st May, 2023
1. Added Job single sidebar control settings
2. Updated breadcrumb settings
3. Added Jobs grid element
4. Updated CSS files

1.2.2 - 20th April, 2023
1. Added application status
2. Added settings to add additional application status
3. Updated theme required plugin
4. Updated CSS files

1.2.1 - 13th April, 2023
1. Added candidate search form
2. Added recruiter search form
3. Added settings to customize search form fields placeholders
4. Added settings to customize candidate archive page banner image
5. Added settings to customize recruiter archive page banner image
6. Added settings to customize jobs listing page banner image
7. Added settings to control job search form
8. Fixed testimonials template layout in mobile screen
9. Updated Theme required plugins
10. Updated CSS files
11. Tested up to WordPress version 6.2

1.2.0 - 20th March, 2023:
1. Updated job dashboard page
2. Fixed PHP errors
3. Updated user register method
4. Updated job templates
5. Updated theme required plugins
6. Updated demo content

1.1.9 - 5th March, 2023
1. Added job applications tab in job dashboard
2. Updated post and action access based on user roles
3. Updated theme required plugin
4. Updated JS files

1.1.8 - 28th February, 2023
1. Fixed job description update issue
2. Added settings to customize job search form fields placeholders
3. Added job applicants count column in job dashboard
4. Added past applications in job dashboard
5. Added setting to control job visibility to user 
6. Added setting to customize recruiter hiring banner content
7. Updated theme required plugin

1.1.7 - 22th February, 2023
1. Fixed job employment info template data update issue
2. Improved job employment info template layout
3. Added settings to customize blog banner title and description
4. Updated WooCommerce outdated templates
5. Updated demo content

1.1.6 - 15th February, 2023
1. Updated preloader animation
2. Added support to customize preloader dots color
3. Updated CSS files

1.1.5 - 13th February, 2023
1. Fixed job employment info layout
2. Updated job employment info template
3. Added settings to customize job employment info template
4. Added settings to add job skills in job employment info template
5. Added settings to add job publish date in job employment info template
6. Updated CSS files

1.1.4 - 8th February, 2023
1. Fixed php errors
2. Fixed job employment info layout issue
3. Added duplicate posts support
4. Fixed post meta saving issue
5. Updated CSS files
6. Updated theme required plugin

1.1.3 - 1st Feb, 2023
1. Added setting to disable pre loader animation
2. Added job skill field on frontend job submission form
3. Added support to use the WP job manager application form shortcode
4. Improved text translation
5. Updated theme required plugin

1.1.2 - 26th January, 2023:
1. Fixed recruiter contact info update issue
2. Added settings to customize logo size in large sceen
3. Added settings to customize logo size in mobile sceen
4. Updated job filters template
5. Updated job search form template
6. Updated theme required plugin
7. Updated CSS files

1.1.1 - 24th January, 2023:
1. Added employer and candidate separate register option
2. Updated login register forms
3. Updated job categories template
4. Updated job templates
5. Updated similar job template
6. Updated theme required plugin
7. Updated CSS files
8. Updated demo content

1.1.0 - 16th January, 2023
1. Fixed Recruiter frontend form submission issues
2. Fixed Candidate frontend form submission issues
3. Fixed Job frontend form submission issues
4. Fixed plugin installation issues
5. Updated candidate skills shortcode
6. Updated WooCommerce outdated templates
7. Updated theme required plugins
8. Updated demo content

1.0.9 - 5th January, 2023
1. Fixed frontend form php warning issues
2. Fixed login and register button display issues
3. Updated theme required plugins

1.0.8.1 - 5th January, 2023
1. Fixed frontend form php warning issues
2. Updated theme required plugins

1.0.8 - 29th December, 2022
1. Added footer widgets columns control
2. Added settings to control footer background
3. Added rtl support
4. Updated CSS files

1.0.7 - 23th December, 2022
1. Added settings to update profile picture from frontend
2. Added settings to update profile banner from frontend
3. Fixed login page image update issue
4. Added settings to hide header nav buttons

1.0.6 - 19th December, 2022
1. Added Job grid template supported with image
2. Added setting to upload job grid image
3. Updated WooCommerce backdated templates
4. Updated theme required plugin
5. Updated demo content
6. Updated CSS files

1.0.5 - 15th December, 2022
1. Fixed child theme customizer issue
2. Improved mobile header
3. Added settings to add custom nav buttons
4. Added Job Tags addon
5. Added Application deadline addon 
6. Added settings to change Job archive page layout view
7. Added settings to change Recruiter archive page layout view
8. Added settings to change Candidate archive page layout view
9. Improved layout switcher feature
10. Updated theme required plugin
11. Updated CSS files
12. Updated demo content
13. Updated widget demo content

1.0.4 - 9th December 2022
1. Added settings to disable login and register links
2. Added settings to add job dashboard link in nav buttons
3. Added candidate video upload feature
4. Added job bookmark feature
5. Added job share to social platform feature
6. Improved job apply link settings
7. Added WP Job Manager Resume options
8. Added WP Job Manager Application options
9. Updated theme required plugin
10. Updated demo content
11. Updated CSS files

1.0.3 - 5th December, 2022
1. Added latest posts title settings
2. Added featured jobs title settings
3. Added similar jobs title settings
4. Added bookmark job feature
5. Added view saved jobs from frontend
6. Fixed google map issue
7. Improved static text issue
8. Added modal popup login and registration from
9. Updated CSS files

1.0.2 - 24th November, 2022
1. Added Home 5
2. Added Home 6
3. Added additional field setting
4. Added template control settings
5. Added no jobs text setting
6. Added backup and restore setting for job manager
7. Updated login page
8. Updated register page
9. Updated lost password page
10. Added copyright text setting
11. Fixed dynamic style issues
12. Added partial for customizer
13. Updated demo content
14. Updated one click demo import page
15. Updated theme required plugins
16. Updated CSS files

1.0.1 - 21st November, 2022
1. Added Home 2
2. Added Home 3
3. Added Home 4
4. Fixed job company name field required issue
5. Fixed featured job icon issue
6. Updated demo content
7. Updated CSS files