While designed primarily as a mobile menu, Morph works wonderfully on both desktop and touch devices and can be set to be shown at specified resolutions only, meaning – if you so wish – it can easily be used as a mobile-only or desktop-only menu.
Morph is also extremely easy to customize; by changing colors, enabling/disabling and modifying different elements, you can make sure your menu suits your site. It even supports widgets, making it that much more expandable. You can also slide it in from either the left or right side of the screen.
Furthermore, the flyout menu can be triggered by any element (a custom menu button for example). All you have to do is add a specific class to the element and voila! For cases such as this, Morph's own menu button can be hidden with a single click.
To get a visual of what's possible, be sure to have a look at the details below. And certainly don't miss the live example here to see the menu in action. You can see more examples on the demo sites for one of our mobile themes here.
PS! Morph is available at a discount in the WordPress Mobile Menu Bundle.
It's all in the details
Below, you'll see the massive customizability of Morph brought out in detail. Every customizable element is displayed and explained in full. And remember, with the real-time Live Customizer integration, making changes as you see fit is effortless.
Header bar
The header bar holds Morph's menu button and logo locations. Choose from multiple menu button styles and animations, add a menu button label, set up a logo, customize colors, opacity etc.
Have a look at the image below to get acquainted with all the possibilities: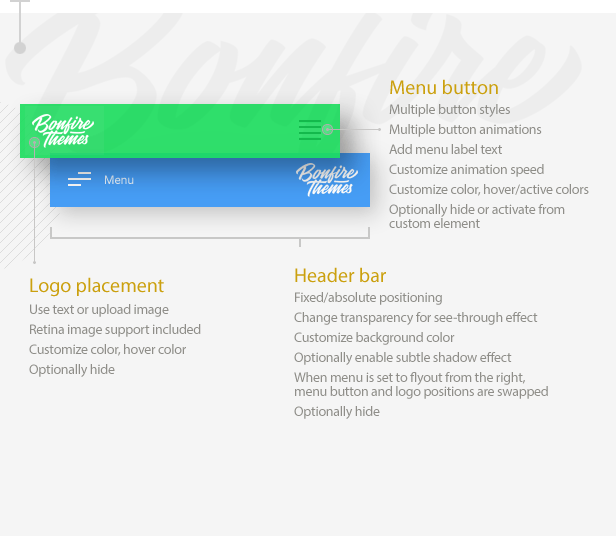 Heading area
The heading area allows you to give some serious personality to your Morph flyout menu. Customize its height, overlay color and opacity, add a background image or pattern, insert heading and sub-heading texts with any information, and customize the color and thickness of its bottom border. You can also set up an optional secondary menu. Or you can hide the entire area and everything in it.
The image below lays out all the possibilities: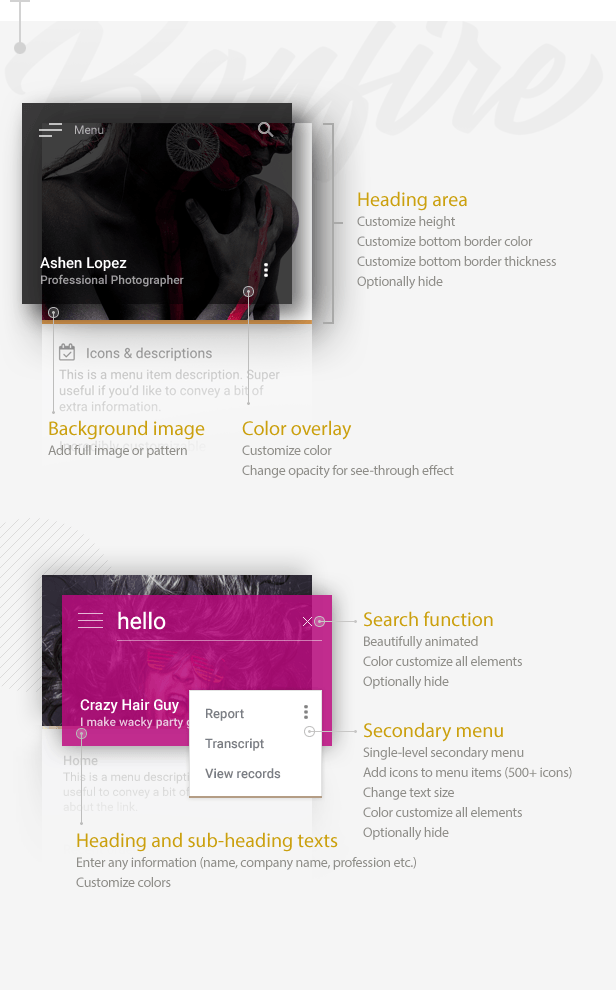 Multi-level accordion menu and widgets
The backbone of Morph is of course its flyout menu which, like everything else in the plugin, is immensely customizable; create a multi-level accordion menu, add icons and descriptions to menu items, change any and all colors. There's even a widget location which allows you to wildly extend its uses; add a mailing list signup form, a call to action button, absolutely anything you need.
In addition, you can display Morph on specified resolutions only, there are options to hide your theme menu/logo/search etc. by IDs/classes when Morph is being displayed, and customize the color and opacity of the overlay which is displayed when the flyout menu is open.
Once more, please grab all the details from the image below: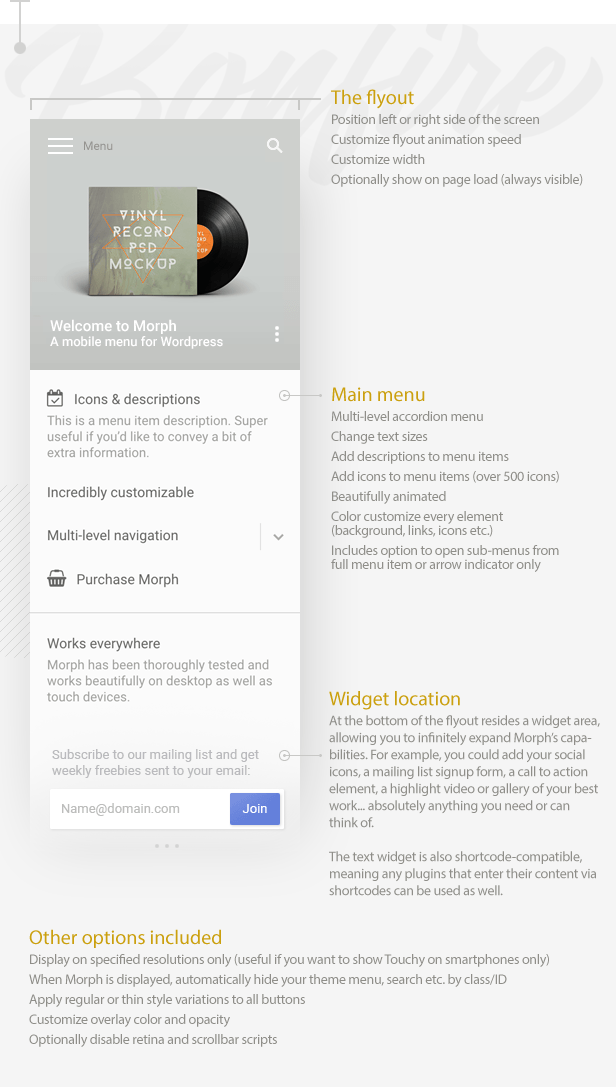 70+ customizable settings
The easy-to-use Live Customizer lets you set up and modify Morph quickly and preview your changes in real-time. All the settings are logically categorized, organized and well explained, which means making changes and setting up Morph exactly as you want is an absolute breeze.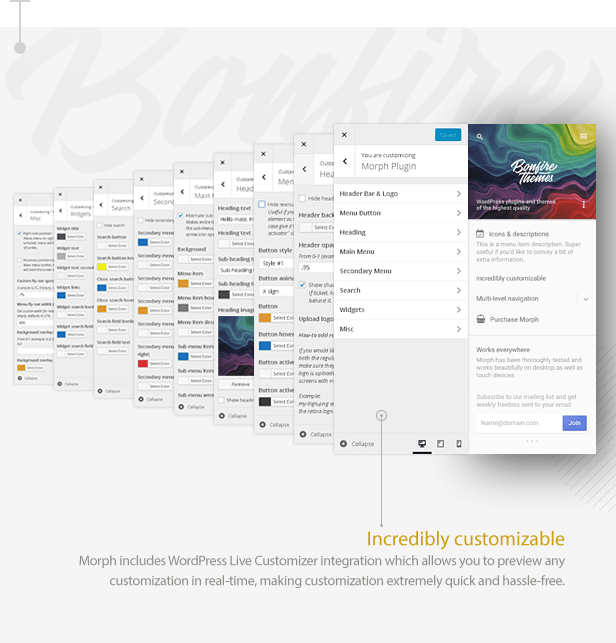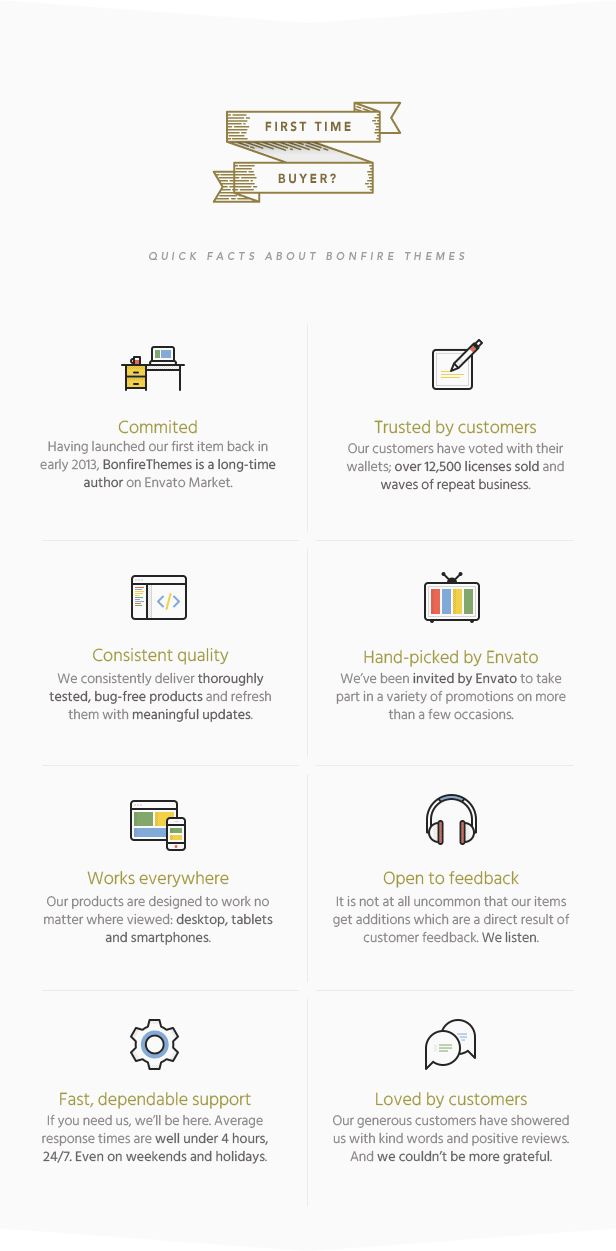 Features
Super clean, beautifully animated design
Highly customizable
Morph uses the built-in WordPress menu builder and customization tools, making the plugin lightweight and allows you to use tools already familiar to you
Slide in menu from either left or right side
Choose from multiple menu button styles and animations
Add label to menu button
All buttons have regular and thin variations
Add logo as text or upload logo image (retina support)
Primary, multi-level accordion menu
Add menu descriptions to multi-level menu
Secondary pop-out menu (can be disabled)
Integrated search function (can be disabled)
Add heading background image or pattern, change image area height
Set heading background overlay color and opacity
Customize flyout speed and width
Choose from 2 menu button animations (or disable animation)
Menu button has fixed/absolute positioning
Customize fancy scrollbar colors, thickness and roundness
Show/hide Morph at set resolutions
Hide your theme menu when Morph is active (via class/ID)
Optionally disable retina and scrollbar scripts
Optionally make the flyout always visible
Customers love Bonfire Themes!
As always, you can rely on our support should you need it. If you're an existing customer and have spoken to us previously, then you already know what that means. If you're a first time buyer, then here is just a taste of what our customers have to say about Bonfire Themes:
"Great products, matched by great customer support."
"A customer service like that, I haven't seen for a long time!"
"I am one happy customer indeed! Thank you guys! Keep up the good work!"
"This is by far the best support.."
"… extreme fast response!!!"
"Thanks for your speedy service! :)"
"Best support I've ever seen! .. Five stars is not enough!"
"Wow, thanks for the prompt response."
"… customer service provided goes above and beyond … An excellent experience from start to finish."
"Thanks for such a speedy response! You rock man!"