Simple Forum – Responsive Bulletin Board
Simple forum is the responsive bulletin board and community forum software that can be used to stay in touch with a group of people or can power your entire website.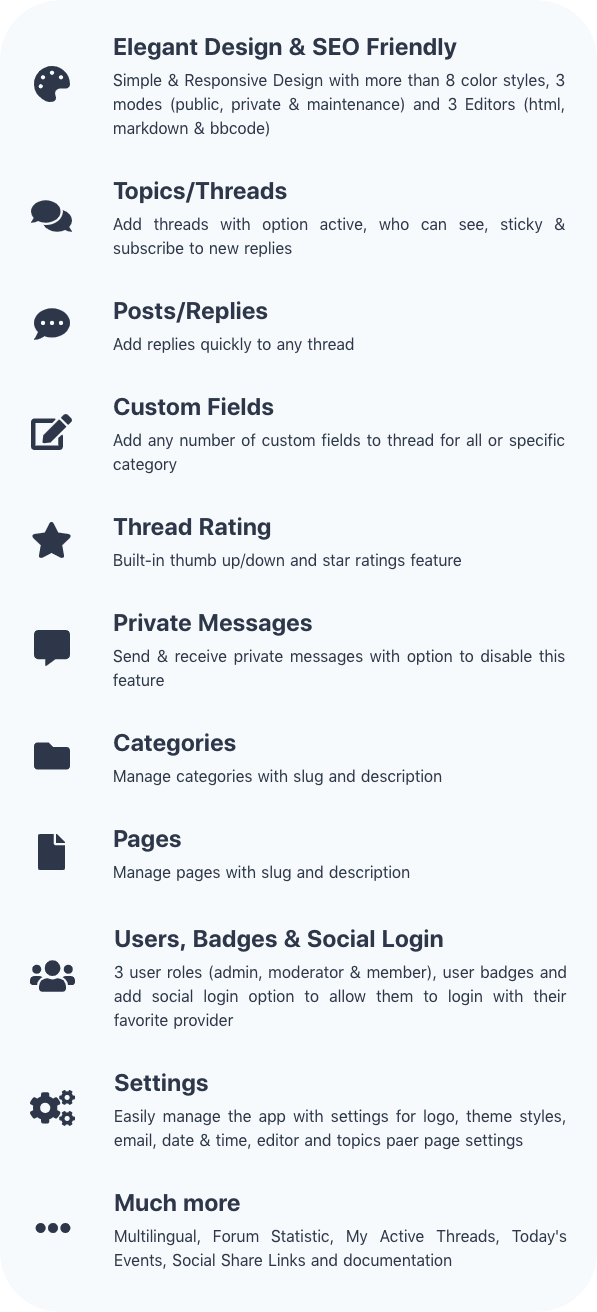 Features
Simple forum have more than 8 color styles, private messages, custom thread fields and many other features that can help you create a very unique forum in minutes for your communities and support website. Redesigned for even greater usability. It's the most simple yet powerful way to enable discussion on your website. No other bulletin board software offers a greater complement of features, while maintaining efficiency and ease of use.
Simple & Responsive Design
Settings page to easily manage the forum
More than 8 color styles
Forum search option
Email template files
Links to Social Profiles
Social auth to allow user to login with Facebook, Google and 8 others
Private Messages
Pages & Categories
Custom Thread Fields
User & Badges
Option to get notified for replies
User avatar to get the user mini profile
User registration and reset password options
4 advertisement spaces
Sticky Threads
3 Forum Modes

Public: General forum mode, in this mode the forum will be open for public to view public threads
Private: Only register member will have the access to forum
Maintenance: Forum not available to mods and members

3 Thread Options (Who can see)

Everyone: Everyone public (not private), members and all other can see the thread
Members: Only registered members can see the thread
Admnins, Mods & Me: Creator, moderators and admins can see the thread

3 Editors

Redactor: Commercial HTML Editor
SimpleDME: Markdown Editor
SCEditor: BBCode Editor

3 User Roles

Admin: admins can perform any task on forum from thread to settings
Moderator: moderators can perform all task as admin except users, settings and delete rights
Member: Forum member can create threads, add replies.

Forum Statistics with

Total thread
Total Replies
Total members (users including the admins & mods)

Today's Events

Logins: The list of users logged in
Birthdays: The list of the users who are celebrating birthday