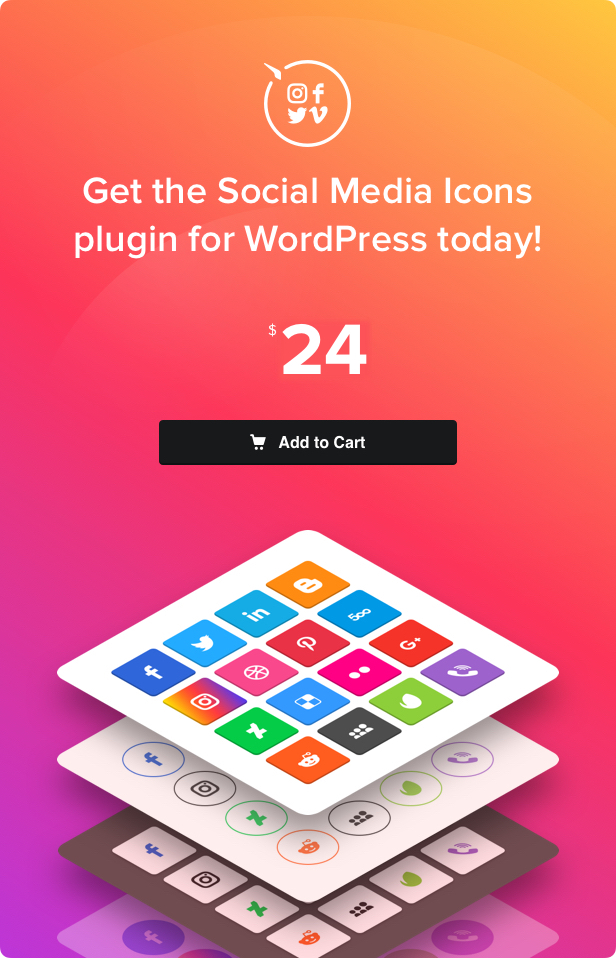 WordPress Social Media Icons – a simple and perfect Social Icons plugin from Elfsight to link your WordPress website to your social networks accounts to make keeping in touch with your customers and followers so much easier. Bloggers and online business owners alike will appreciate the opportunity to increase their presence in the social media and to promote their websites at the same time.
Now you can choose the icons of any social media networks you need, link them to your social media profiles and give your readers access to your latest status updates and more.
Add this amazing Social Media Icons widget for WordPress in no time at all, with no coding skills required to any place of your website – header, footer, etc.
Promote your social media accounts as your business grows.
Give your visitors an extra option of leaving feedback for your great products or services.
Improve the way you reach out to your target audience by carefully choosing the right social media to display.
Display native social media icons and use the WordPress Social Icons plugin's amazing customization capabilities to make the icons fit your website's unique style.
Complete Features List
A choice of 50+ predefined social icons
Unlimited number of sources
A choice of 5 custom icon dimensions, to make widget look just right on your webpage
6 predefined icon styles to choose from
3 combinable color options
3 icon shapes
5 icon animations
Customizable transparency
Code generator – all you need to do to install, is configure the WordPress Social Icons widget, get the code and add it to your website
How to add Social Media Icons to WordPress website
With our fantastic plugin, adding social media icons to any part of WordPress website (footer, header, etc) takes less than a minute. We have prepared a brief installation guide for you.
Download the plugin from Codecanyon;
Add it to admin panel;
Customize the icons for your website;
Add social media icons widget to WordPress page
How to add social media icons to WordPress header
Go to the editor in "Appearance" tab
Find template for the header and insert icons code there
How to add social media icons to WordPress footer
Go to the editor in "Appearance" tab
Find template for footer add icons code to it
If you experience any problems with widget setup, contact our Help Canter and we'll provide any necessary help.
Support for the Social Icons plugin
The Social Icons WordPress plugin is unbelievably easy to use and trouble free. However, should anything ever go wrong, our friendly and professional Support staff are here to provide you with any help you need. You're welcome to message us or submit a ticket at our Support Center at any time, just expect an answer during our office hours from 10 a.m. to 7 p.m. CET, Monday through Friday.
Still haven't checked our plugin live? Do it right now on WordPress Social Media Icons page!